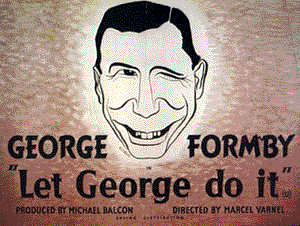 Meet the West Midlands' trio
who helped put British films
on the world stage.
from the BBC
funny ha ha and funny peculiar.
from 1895 to Today
these web pages are once more
some of the films are outside
of this website's timeline, we
felt the link needed to be included
mainly 1930-1950, but with other
odds and ends too.
from the wonderful folk at
wickedlady.com
British Cinema in the 1950s and 1960s
Daisy and her husband decide to
enter a face-pulling competition, but..
This wonderfully daft comedy
was released in 1914.
you have see this to believe it.
pictures, interviews, articles
about and with members of
Britain's film industry
fom screenonline @
the British Film Institute
an early directing effort by
Victor Saville, is a
charming period piece, first
performed on the stage in 1912,
and was thought to be
controversial at the time.
this was the first sound version
of the film.
our website on historical
events and people as portrayed
in film, including an alternate
version of the
Scott of The Antarctic page,
found on this website
British Films of the 30s, 40s and 50s
a two part article by John Aldred
on London Film Productions
and the man whose
name loomslarge in British film
Sir Alexander Korda
Absolutely fascinating photographs
of 1950s British cinema advertising
a good listing with some timeline
overlapping that which
this website is covering
an essential guide for those,
interested in British and
Irish directors. from screenonline
at the British Film Institute
one of the earliest British films
and one actually viewed by us.
its wonderful, in an odd sort of way.
the page is at screenonline, part
of The British Film Institute website
a treasure trove of film
from the
British Film Institute
and the place alot of the
links on this website
go to
Highly Recommended
some of Steve's screen captures
of film titles appear on this website,
most notably on the Tiger Bay
and Whistle down the Wind
pages. Steve, not enough thanks
can be given, keep up the great work!
an incredible and invaluable
resource site
on all things silent film
Alistair Sim stars in this early
British mystery chiller
welcome to the
Creative Archive Licence Group,
a pilot project by the
British Film Institute,along
with the BBC, Channel 4 and
the Open University featuring
video clips made available
for free download to users
in the United Kingdom
to stimulate creative re-use for
non-commercial purposes.