Rescued by Rover
(1905) British
B&W : 425 feet
screenplay. Mrs. Cecil Hepworth
Directed by Lewin Fitzhamon
Producer: Cecil M. Hepworth.
Cinematography: Cecil M. Hepworth.
Production Company:
Hepworth Manufacturing Company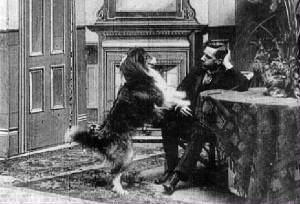 The dog Rover plays with a baby in front of the fire. In the afternoon, the baby is taken out by her nurse. A beggar woman asks the nurse for money, but she refuses. The nurse then has a romantic assignation with a soldier, which causes her to take her eye off the pram, and the beggar woman takes advantage of this by stealing the baby.The nurse goes to the baby's mother and tells her what has happened. Rover, after listening intently, jumps through the window and races down the street, around a corner and across a river. He finds a collection of slum dwellings and goes from door to door.
Finally hitting upon the right one, he enters, finding the beggar woman removing the baby's clothes. She shoos him away, so he returns home and pleads with the baby's father to accompany him. He follows Rover in a boat across the river, and Rover leads him to the beggar woman. The baby is rescued and returned to his mother. Rover skips happily around them.
The most successful British film in 1905 (it was released on 3rd July) was this six-minute drama produced by pioneering Cecil Hepworth.. The film embraces limited cross-cutting shots linking the locales of the baby and worried parents. Hepworth's family acted in what was an important film in the history of early cinema.
Cast: Cecil Hepworth, Mrs. Cecil Hepworth,
Sebastian Smith, Mrs. Sebastian Smith, May Clarke,
Barbara Hepworth, and Blair the dog as Rover