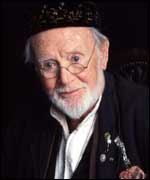 .
BBC Links
Sir John Mills, one of Britain's
best-loved actors and the
star of over 100 films, has
died at the age of 97.
Lord Richard Attenborough has
led tributes to his close
friend, Sir John Mills
For nearly 70 years, Sir John Mills
enjoyed a reputation as one
of Britain's finest actors. Building on
a catalogue of mild-mannered
but iron-willed film characters in
his youth, he made his name
both on stage and television.
Sir John Mills always conveyed
the heroism and humility
of a very English hero.
a very English actor, who made
his name in a string of patriotic war films.
an article by Nick Higham, BBC News
Actor Sir John Mills has been given
a special honour by the
British Academy of Film and Television Arts
(Bafta) to mark his contribution
to cinema during a career spanning
more than 60 years.
BBC Breakfast with Frost
15 September 2002
Actor Sir John Mills launched
a documentary, written and
produced by his son, charting
25 years of his life.
article dated
Tuesday, 21 November, 2000
Actor Sir John Mills and his wife Mary
have renewed their wedding vows
at their local church, 60 years
after they first wed.
article dated,
Tuesday, 16 January, 2001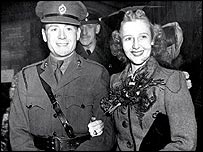 John Mills married Mary Bell at Marylebone Registery Office in 1941
an article at the reliable
Star Archives website
Film & TV credits
from screenonline
at the British Film Institute
Sir John Mills' life told through his
own colour home movies!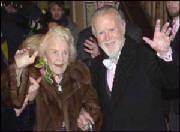 They renewed their wedding vows in church in 2001